Donald Trump's Opponents Take Aim During Debate: 'We Don't Need an Apprentice in the White House'
The second GOP debate managed to bring up the issues but seemed to be overshadowed by the politicians themselves.
With Donald Trump front and center and leading in the polls, candidates took the opportunity at Wednesday night's GOP debate to take direct aim at him.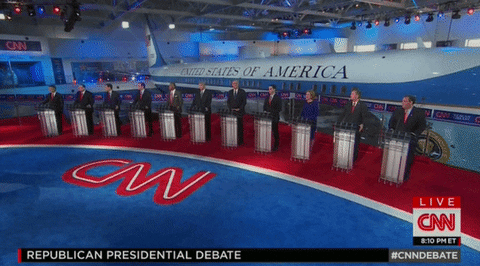 Scott Walker said: "We don't need an apprentice in the White House."
But Carly Fiorina said: "I think he's a great entertainer."
Read: Donald Trump Makes Light of His Controversial Megyn Kelly 'Blood' Comments Durring a Rally
"I think there is a sophomore quality that is entertaining with Mr. Trump, but I am worried," said Rand Paul - but Trump fired right back.
"I never attacked him on his looks and believe me there is plenty of subject matter there I can tell you," Trump said.
Then, Carly Fiorina had a chance to comeback at Donald Trump after comments made previously in the month about her face.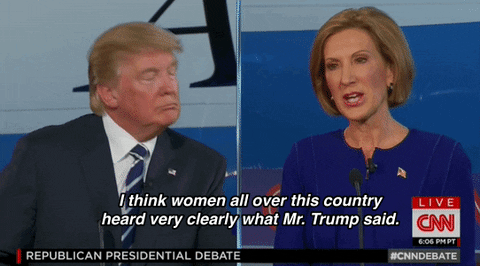 "I think women all over this country heard very clearly what Mr. Trump said," she said and gained a massive applause.
Trump then said: "I think she's got a beautiful face and she's a beautiful woman." But his response was not received well in the hall.
Fiorina is getting high marks for her performance and had one of the most emotional moments of the night when she talked about how she and her husband had to bury their daughter, Lori Ann, in 2009 after the 35-year-old passed away from drug addiction.
In another riveting moment, Jeb Bush told Donald Trump he should apologize to his wife, Columba, who is of Mexican heritage.
Bush was asked if Trump went too far on his insults on her and said: "Yes he did… Subject my wife into a raucous political conversation, I hope you apologize for that."
"I hear she's a lovely woman, I hear phenomenal things," said Trump.
Bush then interjected and demanded an apology.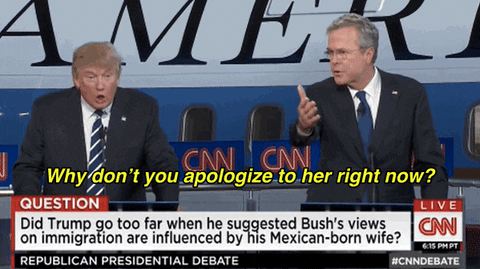 Trump would not give one, saying: "No I won't, because what I said wasn't wrong, but I hear she's a lovely woman."
Read: Joe Biden Says He's Not Ready to Run for President
After the debate, reporters tried to catch up with Trump but he only paused to shake hands with fellow candidate Rick Santorum.
INSIDE EDITION's Jim Moret was at the debate and said: "I've covered a lot of debates and the candidates always come to a spin room but this place is more like a heavyweight fight."
Moret spoke to Dr. Ben Carson and said: "Trump tried to get a rise out of you."
Carson fired back and said: "It's going to take more than that to get a rise out of me!"
Jeb Bush also fessed up about smoking marijuana 40 years ago in college -- and later tweeted "sorry mom" to former First Lady Barbara Bush.
Sorry Mom

September 17, 2015
Trump is getting some new support.
Donald Trump is getting an endorsement of sorts from none other than New England Patriots quarterback Tom Brady who says the billionaire "would make a great president."
So where was Hillary Clinton while the republicans were duking it out? She was on The Tonight Show with Jimmy Fallon who was doing his best Trump impersonation.
Trump is coming out on top in a just released Drudge Report poll. A whopping 56 percent thought he took the night, followed by Fiorina at 19 percent and Ted Cruz at six percent.
Watch Below: Miss Alabama Says Republicans Should be 'Terrfied' of Donald Trump
Trending on Inside Edition